Become a Member
Herbalife Member Licence
Would you like to be part of our Herbalife Family?

For more information then please get in touch:
The Herbalife International Trading Licence offers you a discount on the products and an opportunity to make money, part time or full time.
**The principle activity of an Herbalife Member is to sell and distribute Herbalife products to Retail Customers.
WOULD YOU LIKE TO EARN MORE?
By becoming a Herbalife Member you can boost your income while helping people meet their nutritional needs. Working either full or part time to fit your schedule, you can build your own business and sell proven, high-quality products which are not available in the shops. The exclusivity of our products will help you to build a base of long-term customers, who will turn to you for tailored support and advice.
You do not need to be a nutrition expert to become a Member as you receive all the guidance you need. When you sign up, you will benefit from detailed instruction from your personal Herbalife coach who will be on hand to answer your questions and help you complete your training.
Benefits of becoming a Member include:
Work from home, decide on hours to suit you.
Earn extra money, lucrative compensation plan.
Sell products underpinned by science and used by millions of customers every single day.
Join a large network of Members in over 90 countries.
Receive tried and tested training and support.
Discover the Herbalife Business Opportunity
Herbalife offers a healthy lifestyle solution, additional income potential and a chance to give back. Do you know someone in need of better nutritional advice? Then start the positive change today!
To get started now buy the Herbalife Member Pack below: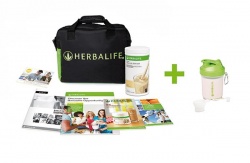 Disclaimer - When considering or comparing business opportunities please be aware that it is illegal for a promoter or participant in a trading scheme to persuade anyone to make a payment by promising benefits from getting others to join a scheme. Do not be misled by claims that high earnings are easily achieved.
The provider of the business opportunity is Herbalife Europe Limited, The Atrium, 1 Harefield Road, Uxbridge, Middlesex, UB8 1HB United Kingdom. Goods sold are nutrition, personal care and cosmetic products. Transactions are effected by participants as principals.