Returns Information
Returns policy - 30 day money back guarantee from Herbal Sales Direct
We are confident that you will love our products.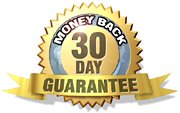 In the unlikely event that you want to return any items you have purchased from us at Herbal Sales Direct, you can use our 30 day money back guarantee policy.
**PLEASE NOTE - we will only accept returns for Herbalife products sold by us at Herbal Sales Direct. Any orders purchased elsewhere must be returned to the member you bought them from (please check your purchase emails and contact the CORRECT MEMBER)
Before returning any products:
You must provide us with your order number - it will begin with HSD_ _ _ _.
If your order does not begin with HSD_ _ _ _, you may have ordered from another member, check you order confirmation email and contact them.
Please email:sales@herbalsalesdirect.co.uk with your order number and reason for return request.
We will then provide you with full instructions on how to return your items.
You can exchange products if needed.
You will receive a refund of the product purchase price MINUS POSTAGE costs incurred by us.
Refunds will be made to the Card/PayPal that you paid with.
The postage cost of returning items to us is the responsibility of the customer and will not be refunded by us.
Thank you.
Andy Evans & Maureen Griffin
Herbal Sales Direct - Herbalife Nutrition Independent Distributors